Parish
Our Lady of Lourdes and St Peter Chanel
119 Cottingham Road
HULL. HU5 2DH
Tel: 01482 342519
Email: info@stcharleshull.org
Website: www.ollspc.com
Clergy: Fr William Massie
Holy Mass is offered at these times:
Mass can also be watched online via the Church youtube channel or Facebook page.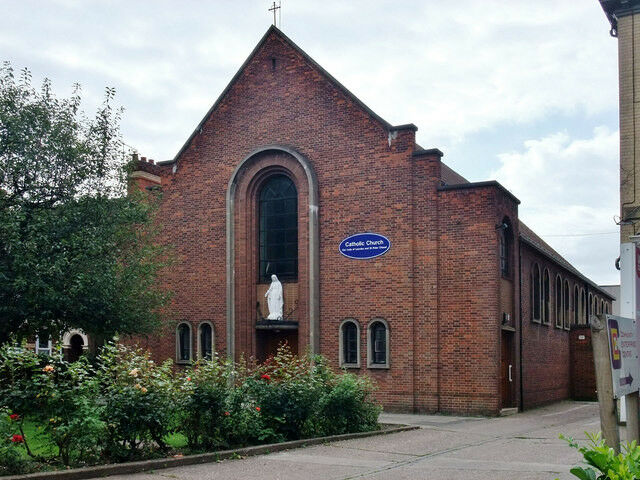 | Sunday and Holy Day Masses | Weekday Masses |
| --- | --- |
| Saturday Vigil: 6.30pm | Monday: 9.30am |
| Sunday: 10am and 6.30pm (student mass) | Tuesday: 7.30pm (in Chaplaincy |
| Holy Days: 9.30am and 7.30pm | Wednesday: 8.00am (in Chaplaincy) |
| | Thursday: 9.30am and 7.30pm |
| | Friday: 9.30am Saturday: 9.30am |
History:
Marist Fathers (Society of Mary), 1925 - 2018
The Parish of Our Lady of Lourdes was founded in 1925 when the Marist Fathers bought the large house – Hop Villa – on Cottingham Road where they opened Marist College, a Catholic secondary school for boys. On the left side of Hop Villa there was a small stable block which was to become the first parish church under their care with the name of Our Lady of Lourdes. In 1957 the new church was built and consecrated under the name of Our Lady of Lourdes and St Peter Chanel. St Peter Chanel, the first Marist martyr, had been canonised in 1954.
2018 onwards – a new beginning
In July of 2018, the Marist Fathers handed the parish into the care of the Diocese. The parish continues today with the church and parish house and is home to people from a wide variety of backgrounds and nationalities. With the grace of God, it will continue to be a church where everyone is welcome.
The Church also provides Chaplaincy to the University.
At Endsleigh Holy Child, our parish priest is Fr William. We all enjoy attending mass and joining together with our priests and our Parish community. Recently, KS2 classes have returned to mass on a Friday morning and we had a wonderful leavers' mass to say goodbye to our fantastic year 6 in July.
When we need an expert to help us to learn about our faith, we know that we can ask our priests and they will come in and talk to us and the Spiritual life at Endsleigh Holy Child is greatly supported by Fr William.
Fr Peter Taylor who was the assistant priest at Our Lady of Lourdes and St Peter Chanel has recently left and is soon heading off to Canada to study Canon Law. We loved seeing him in school and he will be greatly missed. Hopefully, we might catch up with him virtually in the future and until then we keep him very much in our prayers.